So, you're going to Puerto Vallarta. You will be thrilled to be spending some time in paradise. But what should you do when you get there? There are so many things to do in this thriving tourist destination. How can you pick just a few? Don't worry; we have you covered. We spent some time down in Jalisco, Mexico, and we have all the details on the top things to do in Puerto Vallarta.
Play Golf at Marina Vallarta Golf Club
Perhaps the signature of a great vacation is a relaxing game of golf. Put that game of golf in a centrally located 6,700-yard Championship Course in Marina Vallarta, and you have for one epic experience. With lush vegetation, natural lagoons, and gorgeous views, Marina Vallarta Golf Club offers the perfect day of golf. Also, it's your opportunity to eat a delicious meal in the club house and see real crocodiles. That's right! The lagoon on the course has live crocodiles that lounge about while you play your game of golf.
Do the Malecón Art Walk
The Malecón in Puerto Vallarta is a 12-block, mile-long boardwalk that parallels the sparkling waters and bright beaches of Puerto Vallarta. While the beach views are absolutely breathtaking, the sculptures that adorn the Malecón are what truly give it personality. Each sculpture was well thought out and uniquely beautiful. "Searching for Reason", "Nostalgia", and "The Seahorse" are just a few of the great art pieces you'll find here. "Vallarta Dancers" by Jim Demetro highlights the Mexican Hat Dance. Demetro loves to sculpt dying traditions of Puerto Vallarta so they can be remembered for all time. With this lovely piece, he frequently touches up the paint on the lady's dress to keep the color from fading.
Take a Boat to Casitas Mariaka
Riding on a boat past the coastline of Puerto Vallarta is a beautiful adventure. The city is absolutely gorgeous from the distance, and it's fun to pick out where you are staying and your favorite landmarks off on shore. But when you see Casitas Maraika, I'm sure your jaw will drop. This beautifully natural resort is hidden in the palm trees on an island, and you can have lunch at the beach club there right in the sand. If you want to feel completely at peace on an island, here's the place to do it.
Go Shopping
Whether it's for knick-knacks, adorable boho chic fashion, jewelry, or art, shopping in Puerto Vallarta is a great idea. Their market consists of many shops and boutiques with everything you could imagine in them. And, you can take the swinging bridge over the river into streets with more boutiques on the other side. The jewelry stores carry jewelry that is really hand crafted pieces of art. The fashion is unique and perfect for the beachy weather. And there are hundreds of different art galleries as far as the eye can see. It's the perfect place to go shopping.
Eat at Eugenia
Relax by the Pool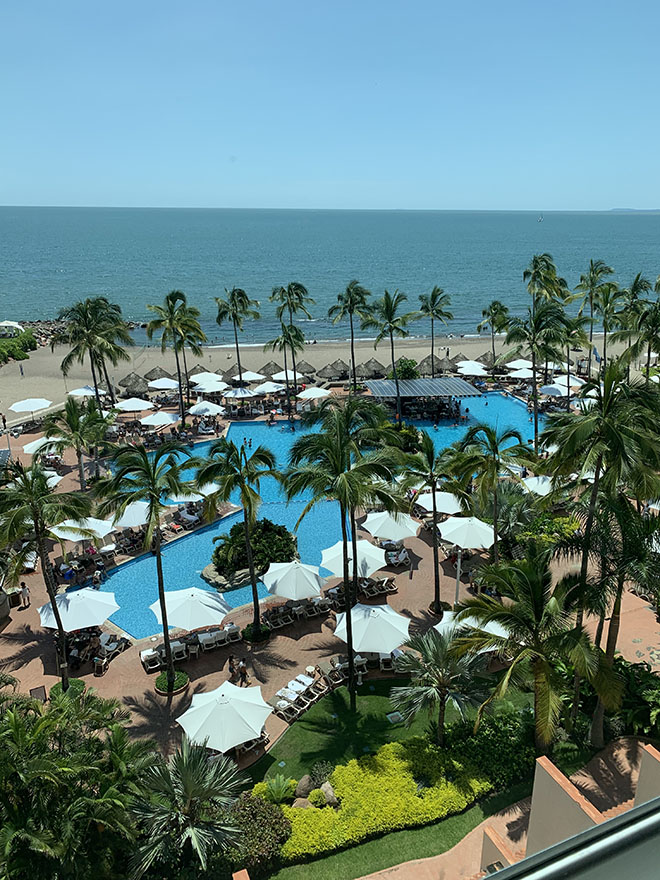 Whether you are staying at the Almar Resort, the Grand Miramar, or the Sheraton Buganvilias, the best part of a vacation can easily be your relax time. Sit back by the pool, soak in the sun, and enjoy the paradise around you!